By Richard Wilson and Robert Margolis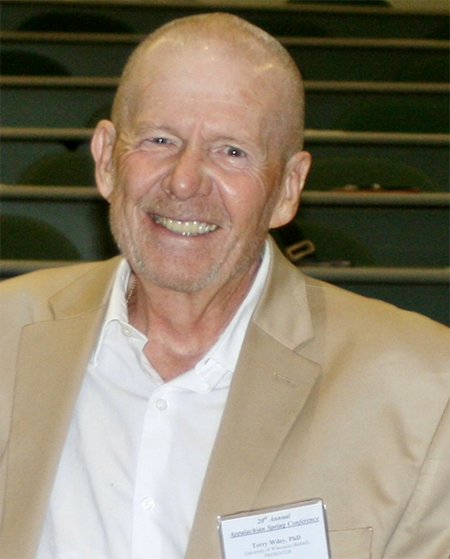 Audiology lost a dear friend on July 7 with the death of Terrance (Terry) L. Wiley in Maricopa, Arizona. Born in Muscatine, Iowa, on May 21, 1943, Terry married his college sweetheart, Linda Kay Baker, of Jefferson, Iowa, in 1965.
He is survived by his wife and best friend Linda; their son, Todd, and his wife Barbara; two grandchildren, Alexander and Brooke, and many close friends in Arizona, Iowa, Wisconsin, and across the United States.
Terry attended Wapello, Iowa, schools graduating from Wapello High School in 1961. He received his BA (1965) from the University of Northern Iowa, MS (1968) from Colorado State University, and his PhD (1972) from the University of Iowa.
He was a professor at The University of Wisconsin-Madison (Department of Communication Sciences and Disorders) from 1971-2002, including four years as department chair. He was a part-time faculty member at Arizona State University (Department of Speech and Hearing Science) from 2002-2008.
He published a textbook and over 170 articles, abstracts, and chapters, mostly in scientific journals. He gave over 200 invited or contributed papers at local, state, national, and international meetings.
In his retirement, he published a book on morality, ethics, and current events. Terry was a Fellow of the American Academy of Audiology and the American Speech-Language-Hearing Association (ASHA) and was awarded the Honors of ASHA in 2009.
He received the 1995 Editor's Award from the American Journal of Audiology, a national Distinguished Teaching Award in Audiology in 1983, the Honors of the Association from the Wisconsin Speech-Language Pathology and Audiology Association in 1996, and was the first member of his department elected to the Teaching Academy at the University of Wisconsin-Madison in 1995. Terry served as editor of the Journal of Speech and Hearing Disorders and the Journal of Speech-Language-Hearing Research.
Terry was a dedicated teacher. He taught the core clinical audiology courses at the University of Wisconsin for over 30 years, supervised many masters' theses and doctoral dissertations, and wrote tutorials on aspects of clinical audiology throughout his career.
Terry was known by his students, colleagues, and classmates for his insistence on scientific rigor and accuracy and his commitment to the importance of scientific principals in audiology research and clinical methods. In his retirement he maintained close relationships with former classmates, students, and colleagues, who admired his dedication to his family, friends, and profession.
Fellow members of the Academy, Drs. Wilson and Margolis, as well as the Academy are sorry for this loss to the audiology profession and community and our thoughts go out to Terry's family, friends, and colleagues.
The Academy was saddened to learn of the passing of Marjorie Jung, MS, a lifetime member of the Academy, and clinical audiologist known for her work in pediatric audiology. During her career, Ms. Jung authored several papers about otoacoustic emissions in children, developed videos of best practices for hearing testing in newborns, and was at…