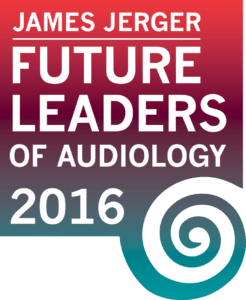 Another smashing group of young professionals assembled at the American Academy of Audiology headquarters in Reston, Virginia, September 11-13, 2016. Chair and former JFLACer Lisa Christensen (class of 2008) and Academy staff member Sarah Sebastian, along with many other Academy staff pulled off another successful Future Leaders conference and spurred these young professionals back into their world equipped with new perspectives and upgraded leadership skill sets as well as many new friends and colleagues.
With an aggressive agenda that included a history lesson of the Academy and the profession from Founder and Past President Brad Stach, an overview of Academy operations from the Executive Director, Tanya Tolpegin, a visit to Capitol Hill to talk to legislators, work on their own DiSC profiles led by Jeffrey Cufaude, numerous other leadership talks and work on a special 'hot topic' project; these young professionals truly experienced lives in the leadership fast lane. The hot topics project was especially engaging as the attendees were assigned to one of six topic areas: the importance of clinical research, accessibility of hearing aids, affordability of hearing aids, attrition of audiologists, audiologic management of the whole patient, and public awareness of audiology and along with their partners, they were to come up with a 5-minute (!) 'Ignite' presentation that told a story with 20 slides that were automatically advanced after 15 seconds……talk about reducing a topic to its essence! But they did it and they did it really well.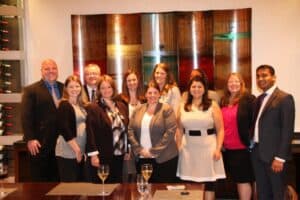 What the JFLACers learned from this 'projects' exercise and the whole of the conference is that Audiology is an awesome and engaging profession and although we have issues that need to be addressed to advance the profession, they learned that they, as leaders are part of the solutions.
The 2016 JFLAC was made possible through a partnership between the Academy, the AAA Foundation, the Oticon Foundation, as well as past JFLACers Dr. Melissa Heche (class of 2010) and Dr. Bre Myers (class of 2012). Thank you for your generosity and moral support!
The 2016 JFLAC class is listed below as are some of their comments about their experience at the conference.
I was honored to be in the JFLAC 2016 class. Interacting with highly intelligent and committed people who want to foster the profession is very exciting for me. The two-day seminar/conference really ignited me and peaked my interest and enthusiasm. I see this opportunity as a beginning and will work closely with the AAA and other stakeholders to improve audiology services locally, nationally and globally.

Vinaya Manchaiah
---
Participating in JFLAC 2016 was a turning point for me professionally. I have never felt as connected to Audiology as I do now.  I am truly humbled to have been able to meet and work with such an impressive group of young professionals. The energy and passion of the participants in JFLAC was amazing. Taking the time to see the legislative process helped me to conceptualize my part. The future of Audiology in bright, thanks to the American Academy of Audiology and the members that continue to work to develop clinical, research and leadership excellence.

Maggie Kettler
---
When I applied for JFLAC, I did so with mixed feelings. I have always had a strong desire to add to our profession, to help develop the next generation of audiologists, and to leave the profession and American Academy of Audiology in a better place than when I first entered. Initially I had some doubts as to why I should be selected to this conference? JFLAC is named in honor of one of the most respected and influential names in the history of our profession, James Jerger. As the conference took place, a major shift took place within myself. My thoughts changed from, what do I have to offer to audiology into, why am I, and others, not doing more for our profession. The ending of the conference was bittersweet. I would have loved a longer program to continue to learn and be inspired, but I was looking forward to being able to take the steps to become more involved in all aspects of audiology. I feel somewhat silly knowing that I doubted my place within the field prior to the conference. Every single individual who has had a long lasting, positive impact for audiology all had to start somewhere.  JFLAC was my spark.  This experience has given me the knowledge, confidence, and inspiration to be the best audiologist that I can be for my patients, peers, and future audiologists. JFLAC was truly a life changing event.

Dave Jedlicka
---
JFLAC was an amazing experience that I wish all audiologists could experience. I left the meeting with not only a much fuller network of amazing audiologists, but also a fuller heart and mind for the field of audiology. This meeting gave me the opportunity to think about issues and ideas that I may not have had before, which opened my eyes to the road that is before us. This is an exciting time in our field and I feel very fortunate that I will be able to use the skills that I took away from this experience to help not only myself professionally, but hopefully the field as a whole! Thank you to the Academy, the AAA Foundation, and Oticon for helping make this enlightening experience a reality!

Kate Marchelletta
---
The Jerger Future Leaders of Audiology conference was a pivotal moment in my career. I had heard from others how wonderful it was but you can't really know the impact that it will have until you have attended. I learned so much about the history of our profession and it lit a fire inside of me to want to help shape the direction our profession will go from here. I felt empowered to go out and be more involved! But one of the most surprising aspects of the conference was all of the wonderful people I got to meet, I have made some lifelong friends. I want to express my heartfelt appreciation to everyone who made this conference a possibility.

Nicole Krueger
---
Thank you Oticon Foundation for supporting the 2016 Jerger Future Leaders of Audiology (JFLAC) Conference. I had the most amazing experience. Initially, I knew it would be a great opportunity for me to attend the conference and network with my colleagues, but I never could have imagined how it would have changed my outlook and what we took away from the conference in just three days. Working with my colleagues rejuvenated me and sparked a new interested in volunteering at the national level to make our profession advance for the good of our patients and future colleagues in the field. The 2016 JFLAC was one of the best conference experiences I have ever had. The energy and excitement of being in the program is something special that will be shared with all JFLACers. I am honored to have met such amazing colleagues and the best part was making friendships to last a lifetime.

Julie Verhoff
---
JFLAC 2016 was singlehandedly the most influential and stimulating conference I have ever attended. The speakers were inspiring and provided us with tools to become effective leaders in our field. I treasure the networking opportunities and personal connections I made. They would not have been possible without this conference. The projects assigned were challenging, but led us to develop real action plans to improve Audiology within our profession and in our communities. Upon returning home, I felt empowered, passionate, and motivated to begin implementing change and advocacy for our profession. The skills and knowledge gained through JFLAC will serve as a guide for the rest of my career. It was truly an honor to attend this conference. Thank you for granting me the opportunity to participate.

Kathryn S. Schwartz
---
I sincerely thank the American Academy of Audiology Foundation and the Oticon Foundation for their generous support for the Jerger Future Leaders of Audiology Conference 2016. It was truly a career-changing experience to be taught by strong leaders who have contributed immensely to advancing our profession, the academy, and the level of care we provide to our patients. As true leaders, they elevated their teaching to mentoring as they inspired us to not only learn by listening, but to learn by doing. The conference activities included a visit to Capitol Hill to communicate our position on legislative issues influencing our profession and a project focused on enhancing our communication ability on key issues through clear and succinct presentations. These experiences significantly enhanced my perspective of the current state of audiology and motivated me to continue speaking up for the future of our profession and the needs of the patients we serve.

Brian R. Earl
---
JFLAC afforded me the unique opportunity to connect with past, present, and future leaders in our field to consider the current state of our field, and our vision for the future. It was both refreshing and enlightening to move outside my niche and consider audiology in its entirety; we are truly a diverse group of professionals. I left with both a deeper understanding of myself, our field, my colleagues, and the issues that we are all working to solve every day.  Perhaps most importantly, I also left armed with a new network of motivated, brilliant minds to collaborate with on future endeavors! I could not recommend JFLAC enough as an excellent opportunity for young professionals looking to become more involved with the Academy and our field in general.

Heidi Slager
---
I was very fortunate to have been chosen to attend the 2016 Jerger Future Leaders of Audiology conference this month. It was an experience that had a significant positive impact on me. As a graduate student, I became interested in learning about ways to support the profession of audiology. I was eager to make a difference. I began my career in a rural Texas practice and then transitioned to the pediatric facility where I have been for the past 5 years. My passion for helping children and their families only served to strengthen my desire to advance the profession, but I struggled with how to put that into action. When it was recommended that I apply to JFLAC, I knew this was a way I could contribute in a meaningful way to my profession.

JFLAC provided me the opportunity to learn about many ways in which I can become involved in supporting audiology. I learned more about myself and my leadership style, and I found areas of strength to build on and areas of weakness to improve upon. I made friendships with other professionals who have the same passions and goals and who will be lifelong partners in advancing our profession. I also came away with a plan for a project which will allow me to contribute to the field immediately and in a meaningful way. JFLAC is an amazing opportunity for leaders in our field and I hope that it continues for many generations to come. It has brought focus to my desire to lead our profession into the future.

Kristi Reed
---
Prior to JFLAC, I did not have a full appreciation of the trials, tribulations, and ultimately, the advances in our profession's history that accrued from an enormous amount of work done by its members. In the current landscape of healthcare, there are a number of new issues that we face which have the potential to dismantle or severely alter the course of our profession. JFLAC provided me with a more meaningful understanding of our past, which has helped me to readjust my expectations and understand the value of making strategic moves, taking small and calculated steps, and having unwavering persistence and patience in the effort to sustain and advance our profession. JFLAC was the most profound and influential professional experience of my career – I left with a clear vision for the direction our profession needs to move in, the realization that I have the potential to make significant contributions to our advancement, and the awareness that the future of our profession lies solely in the hands of its fellows. JFLAC provided me with valuable advocacy and leadership tools as well as the confidence to get involved now and begin giving back to the profession that has given me such a satisfying career.

Natalie Feleppelle
---
JFLAC 2016 was both informative and beneficial to my professional growth. I would recommend it to anyone interested in helping the profession prosper.

Jeremy Donai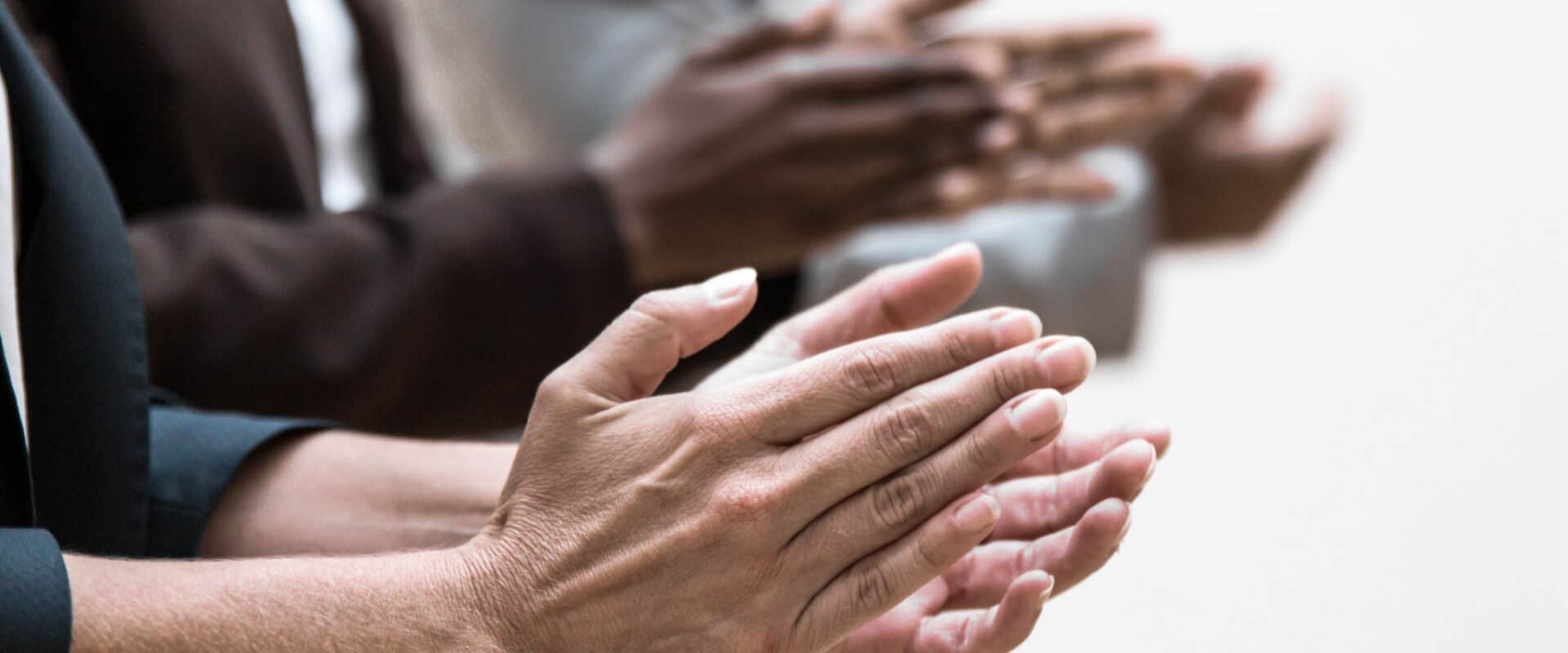 In 2022, AU Bankaitis, PhD, was chosen as the recipient of the Samuel F. Lybarger Industry Award, reserved for individuals who made important contributions to research, engineering, or technical achievements in audiology. Throughout her career, Dr. Bankaitis has created resource information on infection control, clinical issues, and hearing instrument consideration and is a "go-to" person…