Sarah Sydlowski, Academy Board of Directors
Thirty years ago, Rick Talbott facilitated a mini-seminar session on the future of audiology. Reflections from American Academy of Audiology (AAA) founders involved in that meeting were recently published in Audiology Today (Fabry, 2018). The article reviewed how and why that mini-seminar came to be and described the subsequent inception and development of the American Academy of Audiology. For anyone not there at that session, having the opportunity to read about the motivation, foresight, and raw determination of audiologists at the time to break with tradition and forge a new path is inspiring.
Audiologists banded together for a common purpose. Dr. Talbott recalled "the enthusiasm, dedication, and personal sacrifice of time and energy that so many folks gave to the cause, including many volunteers for the exponentially expanding needs of the new organization." Because of the commitment, dedication, and grassroots efforts of many, the future of audiology changed.
Audiologists created a professional home and built an infrastructure to support advocacy, education, leadership, public awareness, and research of, by, and for audiologists.
In the 30 years that have passed, the profession of audiology has strengthened and continues to develop. The AuD degree became a reality. Partner organizations focused on accreditation, certification, and student development. Advocacy efforts and visibility in Washington continue to increase. The American Academy of Audiology is now nearly 12,000 members strong and has scraped and clawed its way into the position of a respected representative for the issues of audiologists.  Yet audiology again finds itself at a crossroads, and conversations frequently turn to the future of the profession in the face of disruption of hearing technology, continued challenges with low reimbursement, and ongoing questions surrounding the quality of audiology education.
As Lucille Beck observed, "audiology has not completely transformed into a mature profession and remains vulnerable to many threats." Concerns about these challenges emerge from audiologists on social media, in community posts, in editorials, and in casual conversations with colleagues in the expo hall. Frequently, those concerns couple with the question of what is AAA doing about the challenges facing audiology?
When reflecting on the seminar where the call to develop AAA came 30 years ago, James Hall recalled "…a tingling combination of nervousness, anticipation, and wordless audiology comradery. Just before the session officially began, I remember standing… near the podium in the very large ballroom. Turning around, I witnessed a seemingly endless line of audiologists streaming through the open doors. There was an unmistakable buzz and energy in the room that reflected my excitement. By the opening remarks, the crowd was crammed into every corner of the room and standing along every inch of wall space."
While the passion for issues facing audiology today has presumably not diminished, the enthusiasm has not coalesced into the productive energy that catapulted AAA into being.
Despite the ongoing work of Academy staff and volunteers, sometimes it may appear that efforts are a standstill. The reason, perhaps, is the very existence of the Academy. Thirty years ago, there wasn't an organization that solely represented the interests of audiologists and the early founders realized the necessity of personally pounding the pavement to make it happen. They flocked to that early session and demonstrated their support, not only philosophically, but by committing to do their part to bring a vision to fruition.
Today, many Academy members may lack appreciation of the continued importance of their role in advancing the profession. The annual membership meeting each year is held in a relatively empty, echoing meeting room, typically with a few dozen former board members and committee chairs scattered throughout. The turnout to influence Academy leadership is a far cry from the endless stream of audiologists that packed the meeting room and drove the development of AAA. Dues are paid and members expect that their monetary contribution is enough for the organization to take up arms and defeat any challenges that come along.
But this expectation assumes that the organization is less than what it is. What the founders of this organization built was not a building, or a staff, or even the leadership. The true strength and composition of the Academy is the membership. An Academy, by definition, is "a society of learned persons organized to advance art, science, or literature." A society, in turn, is "an organized group working together…because of common interests, beliefs, or profession." It follows then, that by definition, the American Academy of Audiology IS the membership. The tagline in current Academy publications is very literally correct: YOU are audiology. WE are audiology.
AAA is comprised of a 34-person staff and over 200 volunteers working together to move the profession in a continued forward trajectory. While the efforts of these individuals are valuable beyond measure, it is important to realize that these are the efforts of 1.95 percent of the membership. Imagine the impact of all of the membership working together toward the same common purpose. Vince Lombardi observed that "individual commitment to a group effort—that is what makes a team work, a company work, a society work, a civilization work." And individual commitment to action is what will make the American Academy of Audiology and the profession of audiology work.
The leadership and staff of the American Academy of Audiology work diligently to create materials, cultivate relationships, and encourage volunteerism regarding issues facing the profession. In the absence of everyone contributing the same level of enthusiasm, dedication, and personal sacrifice of time and energy that Rick Talbott observed so many gave to creating this Academy, efforts to increase public awareness and sustain the profession of audiology will fall short.
Considering the challenges that audiologists face, perhaps 30 years is long enough, and audiology is again in need of a venue, a forum, a call to action, to evaluate our current status, to imagine the future, and to cultivate change. Our opportunity will be at AAA 2018, April 18-21, in Nashville. This year will not be business as usual. This year is a call to action and a request for a commitment from the membership to stand with AAA, not only philosophically, not only by paying membership dues, but by dedicating time, talent, and yes, monetary resources, to a collective cause.
The Academy's current strategic priorities are to deliver purposeful education; provide member value and engagement; advocate for the audiologist, and promote recognition of the Audiology Enterprise.
Over the course of the past two years, Academy staff and leadership have introduced a new organizational structure including an Outreach Council comprised of the committees focused on public awareness, public relations, communications, and outreach to other health-care providers and industry. A public relations consultant, Vicki Bendure, has been retained and has been actively identifying opportunities for media involvement. Over the next few months, you will see AAA's influence in several key national resources. In all venues, the Academy is promoting the message "Get Your Hearing Checked" and encourages all members to work in their local communities to do the same. The Academy has launched and will continue to develop numerous resources that can be utilized by members for this purpose. No effort by membership, however small, will be without impact if everyone is contributing.
At the AAA Annual Conference and beyond, there are many opportunities to learn how you can contribute to this public awareness initiative including:
Learning Lab on Media Training offered Wednesday, April 18
General Assembly Video Presentation and Message from the President Jackie Clark, PhD
Mini Media Training Sessions offered Thursday, April 19 from 1:45 to 2:45 pm and again on Friday, April 20, from 1:30 to 2:30 pm. Located in the exhibit hall.
hearScreen USA Hearing Screening App—Sign up on-site to participate in this revolutionary, consumer-friendly hearing screening app and audiologist directory. Located at Academy Central.
Voices of Hearing Wellness: Stories of Patient Success—Make a donation of $30 or more to the AAA Foundation, and receive this commemorative book. Available at Academy Central.
Online Resources
Audiologist's Guide to Hearing Aids, PSAPs, and OTC Devices
Consumer's Guide to Hearing Health (Coming Soon—April 1)
We are here for you. The Public Awareness Committee, Public Relations Committee, and the Outreach Council are valuable resources and your colleagues who can help facilitate your grassroots efforts. Contact us and let us know your challenges and accomplishments so we can help you navigate those efforts for the best results and so we can share your victories.
Audiology is in the press and we can do more. Don't miss the recaps we e-mail out to you and publish on the Academy website. We want to hear about your efforts, so please share them with us.
The staff, the board, and even the many volunteers of the American Academy of Audiology cannot alone reach the millions of Americans who need to hear our message. We all must engage to make it happen. Thirty years ago, this Academy, this society, agreed to band together to work for the common benefit of audiologists. The founders created a structure upon which formulate a mission. Our call to action today is the opportunity to fully bring the intention of the American Academy of Audiology to fruition. YOU are audiology. WE are audiology. As Helen Keller said, "alone we can do so little; together we can do so much."
Sarah Sydlowski, AuD, PhD, CISC, is the audiology director of the Hearing Implant Program at the Cleveland Clinic in Cleveland, Ohio. She is also a member of the 2018 Academy Board of Directors and the immediate past president of the Ohio Academy of Audiology.
Reference
Fabry, D. (2018). How and why the "future of audiology" mini-seminar came to be. Audiology Today 30(1): 10-14.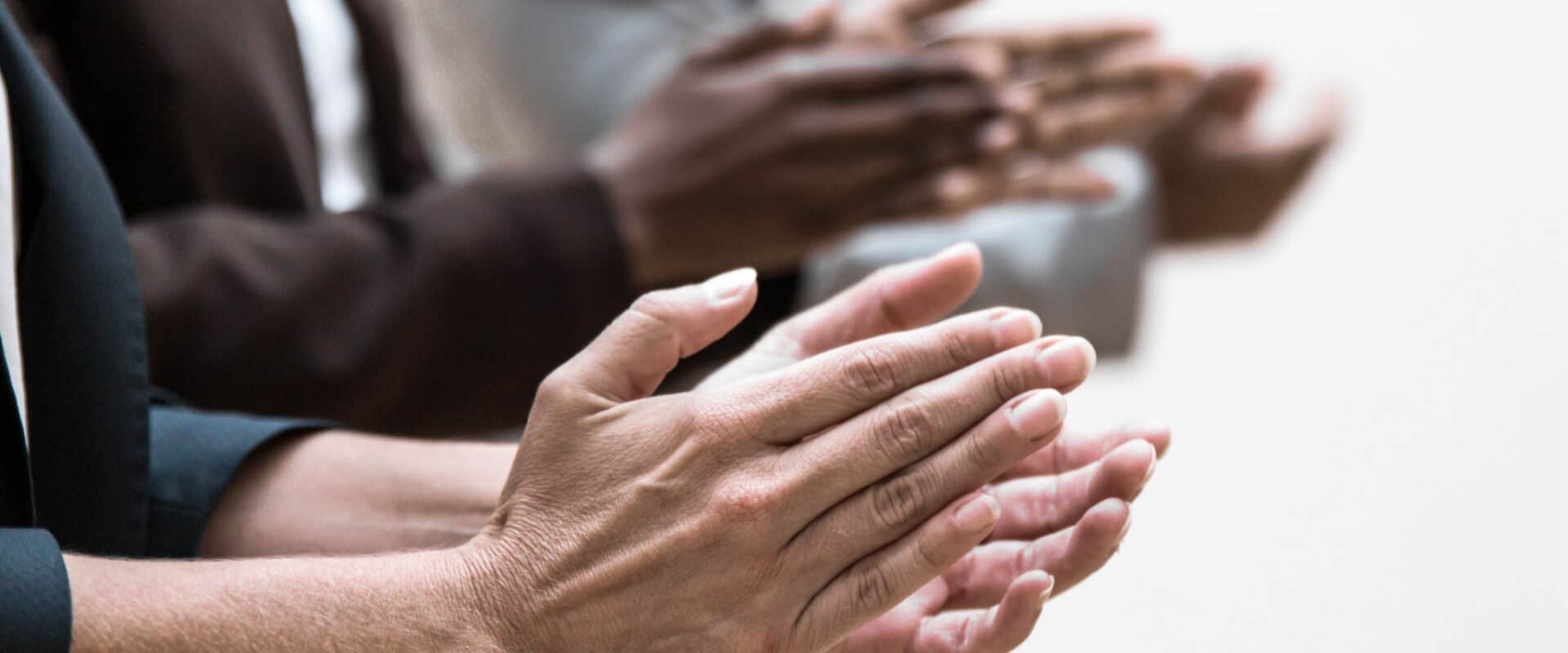 In 2022, AU Bankaitis, PhD, was chosen as the recipient of the Samuel F. Lybarger Industry Award, reserved for individuals who made important contributions to research, engineering, or technical achievements in audiology. Throughout her career, Dr. Bankaitis has created resource information on infection control, clinical issues, and hearing instrument consideration and is a "go-to" person…