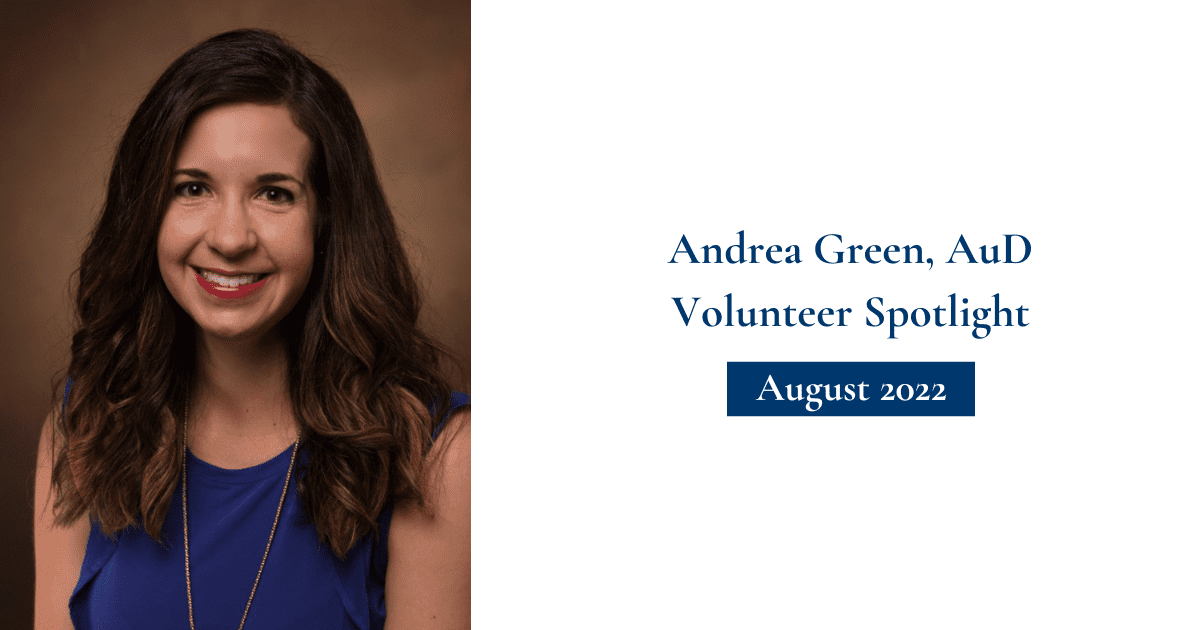 Andrea Green, AuD, is a member of the Resume Review Subcommittee.
---
What is your background in audiology?
My audiology background is quite varied! I currently work at Vanderbilt University Medical Center seeing primarily adult patients for diagnostics, hearing aids, and vestibular evaluations. However, I began my career at the University of Miami Medical Center seeing pediatric patients for diagnostics/ABRs, hearing aids, bone anchored devices, and adult/pediatric vestibular evaluations.
Practicing audiology across the lifespan has given me some great perspective about how to best serve these different age groups.
I have volunteered with the Academy for about 11 years and have also served on the boards for two state organizations. I have also enjoyed volunteering as a Board member for a local non-profit, HEAR Nashville, for many years.
Why do you volunteer with the Academy?
I have always been motivated to give back to the Academy through volunteer leadership. I previously served on the national Student Academy of Audiology (SAA) Board for four years; given these very positive experiences and wonderful connections I built with colleagues, I have continued to invest my time to help further our profession.
I firmly believe that the only way we can continue to elevate our field is from the inside out; audiologists are uniquely positioned to independently establish ourselves as experts in hearing and balance care. By getting involved with the Academy, we can build connections, learn from each other, and help educate others about our profession.
Can you give two examples of persons that inspire you and why? One personal and one professional?
One person who always inspired me was my Dad, Bill Fowler. When I complained about homework or other daunting tasks, he would tell me that "we can do hard things." At the time, this quote wasn't always reassuring; as I've grown up, I've learned to apply this mantra to my life both personally and professionally. I've also been proud to share this quote with my family, friends and colleagues. When life serves up challenges, we can always remember that "we can do hard things."
There are numerous audiologists who have inspired me over the years, but I have always wanted to emulate Erin Miller, AuD. She has been a resounding, hard-working champion for the Academy and served in countless leadership positions. She also has a huge heart for students and does it all with a smile on her face!
What are you learning now that is valuable to you?
When I was in graduate school, one of my mentors told me that eventually the things your kids are interested in will also become your interests. I have never been a "sports person" or remotely athletic, but have so enjoyed learning about and becoming invested in soccer. My husband and I have served as soccer coaches for our two boys' teams (and I've utilized quite a few of my pediatric audiology skills in the process!). Teaching these kids about teamwork, soccer basics, and watching them grow up over the years has been immensely rewarding and challenged me to learn so many new things.
Is there a book or movie that you would rewrite the ending of if you could?
My favorite author is Jodi Picoult, and one of her most widely-known books is My Sister's Keeper. The 10-second synopsis of this book is that Anna, a 13-year-old, finally receives medical emancipation from her parents after providing multiple lifesaving measures for her older sister, Kate. I would have loved for Anna and Kate to grow up together and have a close relationship instead of the unexpected tragic ending.
If you're interested in volunteering for any of our committees, please apply through the volunteer reserve.

What is your background in audiology? When I startedlege, I was a linguistics major who thought I wanted to get a PhD. After a semester of modifying vowel formants, I swore off research as something I could NEVER do for my whole life and decided that speech-language pathology felt like a more applied use of…