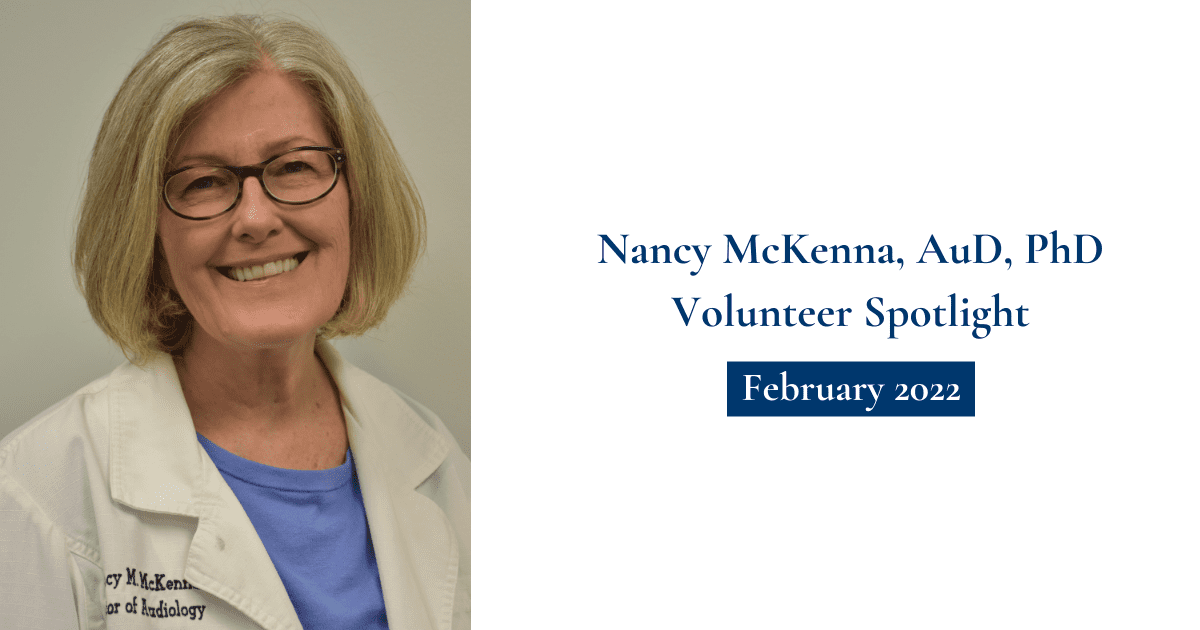 Nancy McKenna, AuD, PhD, is a member of the Membership Committee. If you're interested in volunteering for any of our committees, please review them on the committees and councils page.
---
What is your background in audiology?

I did not know anything about audiology until about a year before I started my AuD studies. After a liberal arts undergrad at Mount Holyoke College, I followed my love of science to a PhD in developmental biology at the University of Virginia, and then on to a research position. At a certain point my priorities changed, and I took time off to focus on my family while still fitting in literacy-focused volunteer work. Eventually, I started taking leveling courses for speech-language pathology (SLP) and discovered audiology. It was a revelation—I could have the rewards of working with patients and still indulge my curiosity about how things work.
I immediately added audiology programs to my list of possible SLP graduate programs. After I received my AuD from the University of Kansas in 2007, I joined the speech and hearing sciences faculty at University of North Carolina (UNC) at Chapel Hill. Currently, I teach courses ranging from pharmacology to genetics in UNC's AuD Program, and have a lifespan clinical practice that encompasses diagnostic and rehabilitative audiology with a particular interest in tinnitus.
Why do you volunteer with the Academy?

Everything changes, including the landscape of healthcare, and change seems to be getting faster and harder to predict. When I reflect on where audiology practice could/should go, it is clear that although I can make little changes in my own practice, larger issues can only be addressed by a strong national organization. Strength comes from members, preferably active members, which is why I currently volunteer on the Membership Committee. I have also found that volunteering is also a great way to get to know colleagues in different settings and locations.
What is the earliest lesson you can remember learning, and who taught it to you (teacher, parent, older sibling)?

When I was a small child, I walked what seemed to be an enormous distance to school with my best friend, our little brothers and her big brother, who was in charge. Sometimes Adrian, the big brother, would call a stop as we trudged across the endless field, and we'd take a minute to make snow angels or watch clouds or twirl in the sun. I still try to interrupt my day briefly to enjoy the moment.
If you had to choose between performance theatre and movie theater and only go to one the rest of your life, which would you choose and why?

That's hard, especially since COVID-19 upended normal life. Attending any kind of live performance in person is a rare treat these days.
Would you rather have the ability to talk to your ancestors or to your descendants?

I teach genetics to AuD students, not just the genetics of hearing loss but the wider aspects of genetics too. I am fascinated by how people connect their sense of self to genetics vs. genealogy vs. experience, so it would have to be ancestors.

What is your background in audiology? When I startedlege, I was a linguistics major who thought I wanted to get a PhD. After a semester of modifying vowel formants, I swore off research as something I could NEVER do for my whole life and decided that speech-language pathology felt like a more applied use of…