By Antony Ricardo Joseph and Deyanira Gonzalez
Within the profession of audiology, there has been an increasing need for cultural competence and sensitivity across most work settings. This includes clinical research, graduate education, and health-care delivery. Specifically, cultural competence and sensitivity are fundamental to acknowledging and remediating the racial and ethnic disparities that have emerged in our society, affecting patient diagnosis, treatment decisions, and clinical outcomes.
Data and reporting about the social determinants of health have shined a light on long-standing difficulties faced by underserved populations because of inadequate access to finance, housing, education, employment, transportation, safety, food, and health care systems in America (CDC, 2022).
This lack of accessible community services excludes minoritized groups from admission to college and graduate education, which results in a significantly under-represented number of racial and ethnic professionals in medicine, dentistry, nursing, and allied health, particularly audiology. To address these disparities, the American Academy of Audiology established the Diversity, Equity, Inclusion, and Belonging (DEIB) Committee.
Prior to establishing the DEIB Committee, the Academy formed the Inclusion, Representation, and Equality (IRE) Steering Committee. In June 2020, leaders of the Academy recruited a group of audiologists from the Black and African American community to develop broad and specific recommendations on steps for the Academy to work with the Board of Directors to identify a sustained approach for change in the Academy's culture.
The IRE Steering Committee convened weekly over a year and submitted a report with several recommendations. The group presented to the Board five IRE Priorities (recruitment, awareness, leadership, general support, and clinical experience), which were subsequently incorporated into the Academy strategic plan. Formulation of the DEIB Committee was one of several underlying components of the strategic plan, and its responsibility is to cultivate awareness skills to support diversity, equity, inclusion and belonging.
A representative 14-member DEIB was tasked to coordinate across Academy committees and councils to promote diversity, inclusion, equity, and multicultural competencies, identify priorities and initiatives for the Academy, develop opportunities for increased engagement in organizational activities by audiologists from underrepresented groups, and cultivate a welcoming environment that values a spectrum of people and perspectives.
More funded research is needed to determine the most efficient way to improve the representation of minoritized professionals in audiology, but, in the meantime, the Academy board aims to administer the IRE priorities and leverage the work of its DEIB Committee to make present-time progress. For example, the 2022 membership survey is expanded and includes demographic questions to determine the state of diversity within the membership. Members have been reluctant to enter the information, so a reliable characterization of demographic sub-groups has been hindered.
One study (Williams and Cooper, 2019) demonstrated that minoritized groups have poorer physical and mental health than White populations and this results in significantly disparate mortality rates. If the Academy can establish itself as an organization that welcomes audiologists from all walks of life, with a strong sense of belonging, while contributing to the recruitment and retention of the individuals in the profession, as more diverse audiologists enter the workforce, this should increase access to audiology services for minoritized populations.
Currently completing its first year of work, the DEIB Committee was handed several tasks. One of them was to develop signage for the Academy about the provision of equitable services for all patients that could be displayed in clinics. This task called for a sign that applied to patients, clinicians, and others in the clinic spaces. The themes of the sign were aimed at tolerance and behavior expected for and from clinic patients.
After much deliberation, the DEIB Committee completed a sign with the heading, "We Promote Diversity and Inclusion," that is now available for members to download, print, and display. It includes illustrative images of a variety of people, in an attempt to be representative.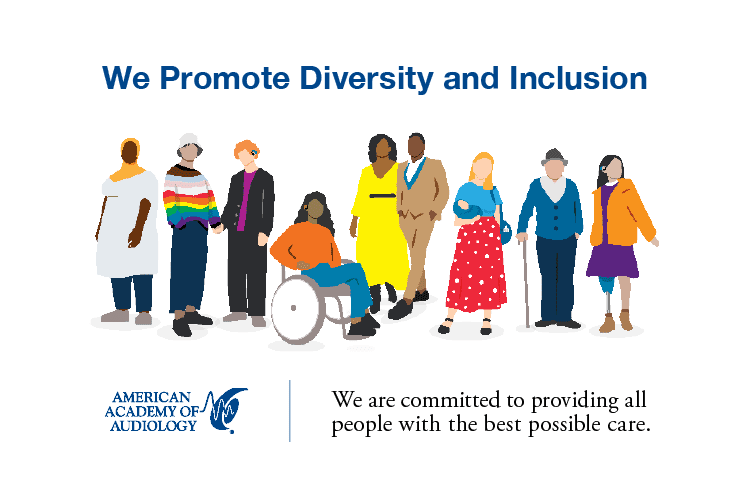 Below the images, the DEIB Committee inserted an additional message: "We are committed to providing all people with the best possible care," with hopes of reminding all those who see the sign that the clinic is committed to DEIB and that patients should expect equal access to all services, regardless of race, culture, religious belief, disability, sexual orientation, gender, or age.
The DEIB Committee would like all patients and clinicians to feel comfortable, that they are in a safe place with no tolerance of unacceptable behavior. The sign should make all feel as though they belong in the clinic, have access to all that the clinic has to offer, and that the clinic team welcomes them to receive its high-quality services.
The Academy is comprised of members that work in a number of different locations and settings across the country, including clinical, educational, manufacturing, government, and elsewhere. We hope that the sign may be displayed proudly by all of the clinics where our members practice. While it is appropriate to use the sign in many settings, the DEIB Committee recognizes that clinical or patient settings might be the best place for it.
The DEIB Committee welcomes feedback about the sign and how it might be improved in the development of additional signage. Fundamentally, the DEIB committee believes that the best approach of addressing racial and ethnic disparities in audiology is by increasing cultural sensitivity and competence and by diversifying workforce of audiologists. We hope that you will join us by proudly displaying this sign because we promote diversity and inclusion.
Antony Ricardo Joseph, AuD, PhD, is the chair of the Academy's DEIB Committee, and Deyanira Gonzalez, AuD, is a member of the Academy's DEIB Committee.
References
Centers for Disease Control. (2022) Social Determinants of Health: Know What Affects Health. www.cdc.gov/socialdeterminants/index.htm (accessed September 14, 2022).
Williams D, Cooper LA. (2019) Reducing Racial Inequities in Health: Using What We Already Know to Take Action. Intl J Environ Res Pub Health 16(4):606.

If you're an employer looking to hire within the audiology profession, HEARCareers is the job board for you. Why HEARCareers? On average, a job posting on HEARCareers earns 600 views per posting, and offers more than 23,000 searchable resumes available to review. Resources HEARCareers offers general advice for employers hiring audiologists, along with employer resources…